Assessment
EYFS
What is the EYFS - Early Years Foundation Stage?
The EYFS is a statutory framework for all early years providers.
The EYFS contains
Learning and development requirements
Assessment requirements
Safeguarding and welfare requirements
Learning and development requirements
There are three prime areas of learning
Communication and language
Physical development
Personal, social and emotional development
There are four specific areas of learning
Literacy
Mathematics
Understanding the world
Expressive art and design
There are two statutory assessments
The progress check ay age 2
The assessment at the end of the EYFS
Early Learning Goals
Your child's teacher will be continually assessing your child to make sure they are making good progress towards the early Learning goals (ELG's). The assessment is based on classroom observation - your child won't be tested. It uses the early learning goals, which can be found in the early years framework.
Follow the link for further information
Nursery World - EYFs parents guide
KS1 - Year 1 Phonics Screening
Week Beginning-10th June 2018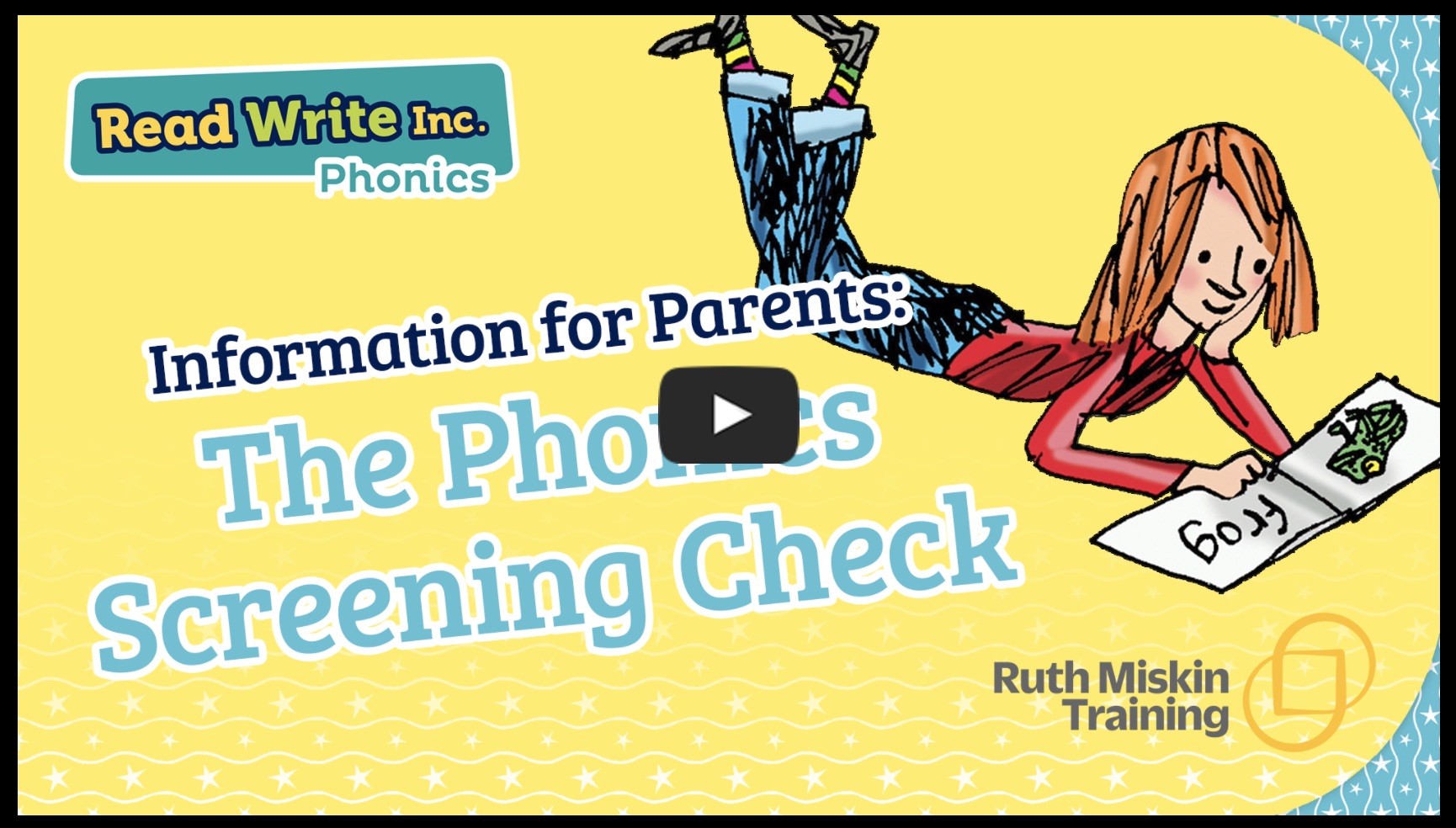 Click the link to find out more about the Year 1 Phonics Screening Check
1. What is the Year 1 phonics screening check?
The phonics screening check is taken individually by all children in Year 1 in England. It is designed to give teachers and parents information on how your child is progressing in phonics. It will help to identify whether your child needs additional support at this stage so that they do not fall behind in this vital early reading skill.
2 .What is in the phonics screening check?
There are two sections in this 40-word check and it assesses phonics skills and knowledge learned through Reception and Year 1. Your child will read up to four words per page for their teacher and they will probably do the check in one sitting of about 5-10 minutes.
3. What sort of check is it and is it compulsory?
It is a school-based check to make sure that your child receives any additional support promptly, should they need it. It is not a stressful situation as the teacher will be well-equipped to listen and understand your child's level of skills.
There will be a few practice words first to make sure your child understands the activity.
4. What does it check?
It checks that your child can:
Sound out and blend graphemes in order to read simple words.
Read phonically decodable one-syllable and two-syllable words, e.g. cat, sand, windmill.
Read a selection of nonsense words which are referred to as pseudo words.
5. What are nonsense or pseudo words and why are they included?
These are words that are phonically decodable but are not actual words with an associated meaning e.g. brip, snorb. Pseudo words are included in the check specifically to assess whether your child can decode a word using phonics skills and not their memory.
The pseudo words will be shown to your child with a picture of a monster and they will be asked to tell their teacher what sort of monster it is by reading the word. This not only makes the check a bit more fun, but provides the children with a context for the nonsense word which is independent from any existing vocabulary they may have. Crucially, it does not provide any clues, so your child just has to be able to decode it. Children generally find nonsense amusing so they will probably enjoy reading these words.
6. Is there a pass mark?
The check is not about passing or failing but checking appropriate progress is being made. If children do not reach the required standard, then the teacher will be in touch to discuss plans and offer additional, tailored support to ensure that your child can catch up. Children progress at different speeds so not reaching the threshold score does not necessarily mean there is a serious problem. Your child will re-sit the check the following summer term.
7. What happens to the results?
The school will report your child's results to you by the end of the summer term as well as to the local authority, but the results won't be published in a league table as with SATs. If you have any concerns, do talk to your teacher about this in a parents' meeting or after school.
8. Do all schools and children have to participate?
All schools and academies in England must take part in the phonics screening check unless they are an independent school. There is a process in place for reviewing children with special educational needs, so if your child's teacher thinks there are very special reasons related to your child and their needs that make them think the phonics screening check may not be appropriate, they will decide on appropriate action and discuss this with you.
9. What can I do to help my child?
Check with your child's teacher if there are any particular areas that you should focus on at home so that you are working together to support your child.
Below are the links to websites with games to help you support your child at home.
Parents will be informed of pupils scores in their end of year reports.
KS1 - Year 2 Phonics Screening
Pupils who do not pass the screening in Year 1, will be re-screened in year 2.
Parents will be informed of pupils score in their end of year reports.
KS1 - Year 2 assessments
What are KS1 SATs?
SATs are a series of assessments in maths and English, carried out in two stages during your child's primary education.
Key Stage 1 SATs consist of formal assessments in maths and reading that take around 3 hours in total to complete, plus informal assessments in science that take place throughout the year.
SATs are just one aspect of the KS1 assessment process. Your child's teacher will be taking all their work in Years 1 and 2 into consideration in order to build a full, accurate picture of how well your child is doing. The full, teacher-assessment report about your child's progress in maths, English reading, English writing and science should be sent to you by the end of the summer term.
When will my child take KS1 SATs?
Maths and English SATs take place in May (they're not date-specific as KS2 SATs are, so you probably won't know in advance when the tests are due to take place) and are not given all at once – assessments are spread out over a period of time, and teachers try to work them into the normal routine in such a way that students may not feel like they're being tested.
KS1 SATs are not timed.
How do KS1 SATs results work?
KS1 SATs results show where your child's academic knowledge ranks against the national average.
The grading system involves children's raw score – the actual number of marks they get – being translated into a scaled score, where a score of 100 means the child is working at the expected standard. A score below 100 indicates that the child needs more support, whereas a score of above 100 suggests the child is working at a higher level than expected for their age. The maximum score possible is 115, and the minimum is 85.
KS1 SATs papers are marked by your child's teacher. Schools don't publish KS1 SATs results, and they are not sent to the government.
You will receive your child's KS1 SATs results as part of their school report in July.
Children will also be matched against 'performance descriptors' such as working towards the expected level, working at the expected level and working above the expected level, when being assessed by their teachers at the end of Key Stage 1.
How important are KS1 SATs?
As soon as the word 'exam' pops up, it can set off the parental panic button! Think of Key Stage 1 SATs as evaluations rather than exams – they're not designed to be passed or failed, and they gauge what level your child has reached rather than whether or not they meet the standards set in the test. It's another way to highlight where your child is doing well, and where they might need extra help.
For further information about the SAT's paper follow the links below
KS1 maths SATs: what is tested in the Y2 assessments?
KS1 English SATs: what is tested in the Y2 assessments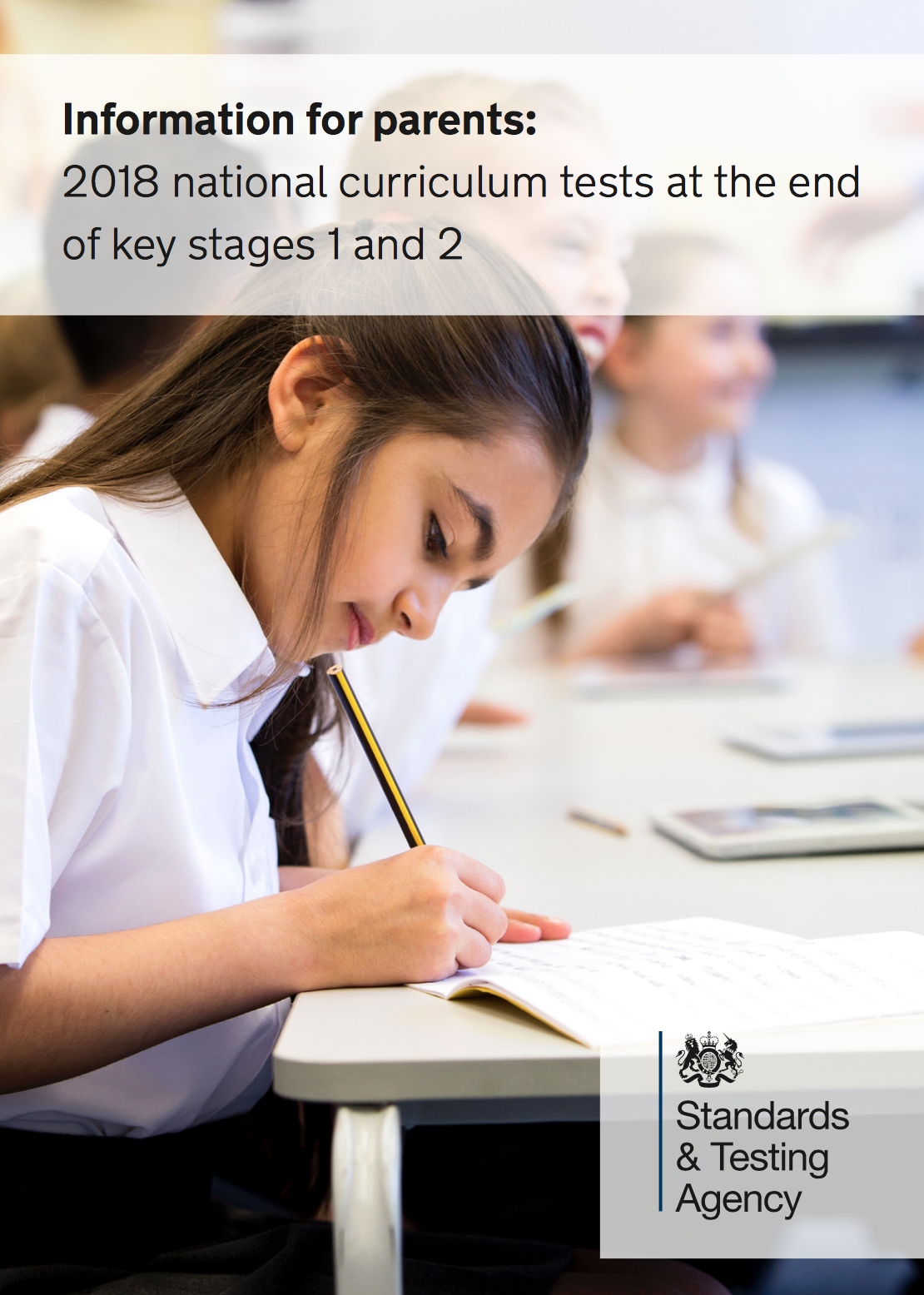 KS2 - Year 4 Times table check
From the 2019/20 academic year onwards, schools in England will be required to administer an online multiplication tables check (MTC) to year 4 pupils.
What is the Year 4 multiplication tables check?
The multiplication tables check is an online test for pupils in Year 4. Pupils are asked to answer 25 questions on times tables from two to 12. They are given six seconds per question, with three seconds rest between each question, so the test should last less than five minutes.
Questions about the six, seven, eight, nine, and 12 times tables are likely to come up most often, as these are the hardest for most children to learn. It's a good idea to focus on these tricky times tables with your child.
First and foremost, the check is about finding out which children are struggling with their times tables so that they can get extra support. It is not a judgement on what your child can do, but a way for the school to know how their teaching is going and to adjust their focus if needed.
When is the check going to happen?
The next trial of the times tables check, open to all schools that want to take part, will take place between 10–28th June 2019. If your child's school is participating in the trial and your child is in Year 4, then they will have to take the test. Contact your child's school to find out if they are taking part.
By June 2020, every school will be required to take part in the check by law.
How can I help my child prepare?
The best way to keep the test stress-free is to work some times tables practice into your daily routine well in advance. With regular practice, your child will get used to tackling these kind of questions with confidence.
Download a times table wall chart from Oxford University Press here ...
KS2 - Year 6 Assessments
If you were unable to attend the Year 6 Information meeting, follow the link to see the presentation that was shared.
1. What are SATs for?
SATs help teachers – and you – learn more about your child's strengths and weaknesses. Teachers can compare how well each child is doing with their peers, both in their school and across the country. They can also measure how much each child improves from one Key Stage to another and are used to predict the likelihood of children achieving specific results in their GCSEs.
2. Does my child have to take SATs?
In England, the tests are compulsory for all seven and 11 year olds.
When will KS2 SATs take place in 2019?
The Year 6 KS2 SATs will be administered in the week commencing 13 May 2019. The timetable is likely to follow previous years' timetables:
Monday 13 May 2019
English grammar, punctuation and spelling Paper 1: questions
English grammar, punctuation and spelling Paper 2: spelling
Tuesday 14 May 2019
English reading
Wednesday 15 May 2019
Mathematics Paper 1: arithmetic
Mathematics Paper 2: reasoning
Thursday 16 May 2019
Mathematics Paper 3: reasoning
How will Key Stage 2 SATs be marked?
You will be given your child's scaled score and whether they have reached the expected standard set by the Department for Education ('NS' means that the expected standard was not achieved and 'AS' means the expected standard was achieved).
The range of scaled scores available for each KS2 test is:
80 (the lowest scaled score that can be awarded)
120 (the highest scaled score)
The expected standard for each test is a scaled score of 100 or more. If a child is awarded a scaled score of 99 or less they won't have achieved the expected standard in the test.
The Department for Education expects at least 65 per cent of children to reach the expected standard (the figure was initially 85 per cent but has been revised).